9 Secrets - How to buy engagement rings the right way
You want to buy an engagement ring, but you feel overwhelmed by the "over-offer"? Learn here our tips, which many jewelers even conceal from you!
Secret 1 - This is what our customers choose from 21DIAMONDS.
You've probably heard of the rule of thumb: 3 months' salary for an engagement ring . While this custom is quite common in the USA, it is not the case in Germany, Austria and Switzerland. Read our secret 6 to find out your budget. At 21Diamonds there is a wide range of rings to suit every budget - from cheap silver rings starting at €150 to fine platinum rings. But which material is most popular? We have put together a small overview of the preferences of 21Diamonds customers.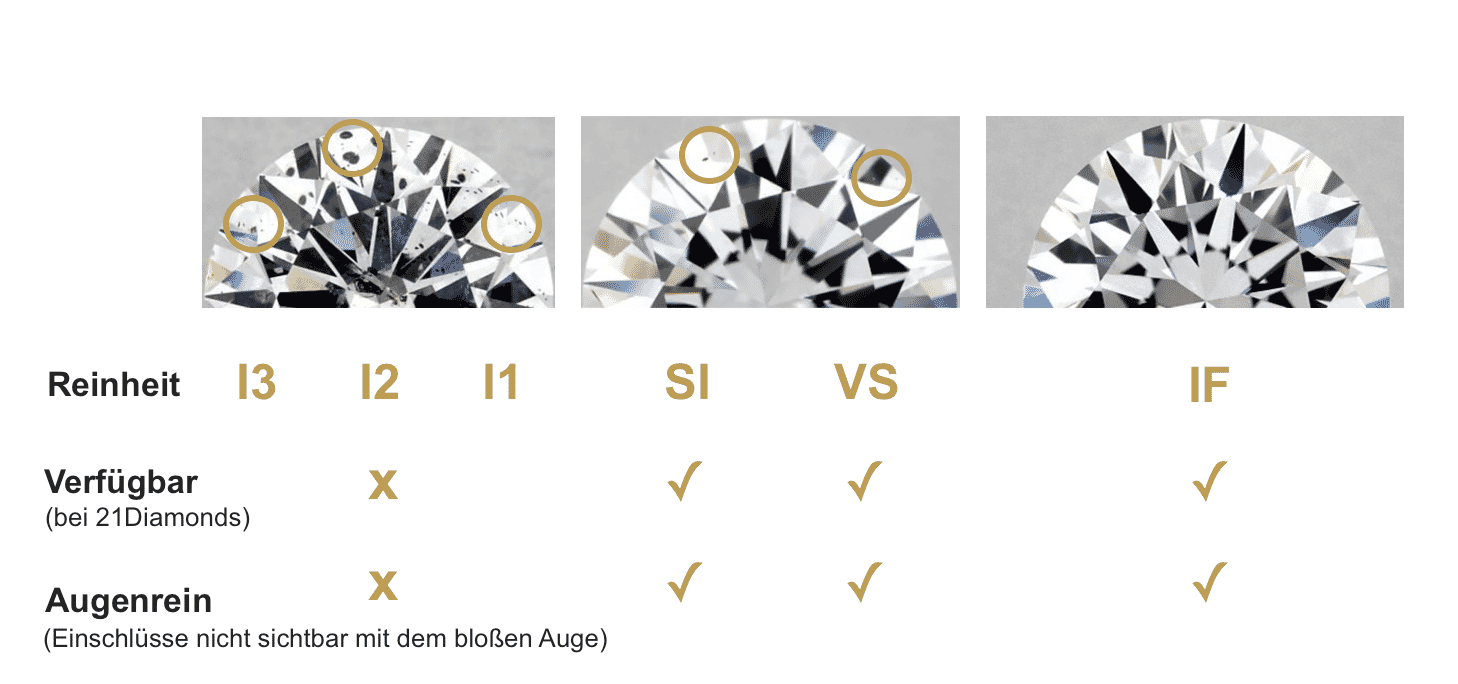 The most popular precious metal for engagement rings is white gold
Engagement rings made of white gold are clearly in first place. The material is very durable and can be wonderfully combined with wedding rings of all gold alloys. Because the tone goes so well with other colors, many women wear white gold rings as a starter ring with a wedding band. The inexpensive alternative to white gold is silver. It should be noted here that silver rings have more abrasion and therefore do not last as long. Platinum and rose gold are increasingly in demand. In the case of platinum, this is due to the fact that the price difference to white gold has decreased more and more in recent years and the material is very robust. In the case of rose gold, the shade goes perfectly with white stones and the colour of the skin. Yellow gold is a very traditional precious metal and is more commonly chosen for wedding rings.
The most popular gemstone is the diamond
Besides the question of ring material and color, there remains the consideration of whether a gemstone is pleasing. In German-speaking countries, the diamond ring is the most popular option. Almost ¾ of our customers opt for an engagement ring with diamonds, which are known for their high brilliance. Blue sapphires are also an option, especially for customers from the UK, where the stone has great historical significance for royal jewellery. Inexpensive alternatives to sapphire are blue topaz. Less common are emeralds and rubies. These colored gemstones are more likely to be set in jewelry rings.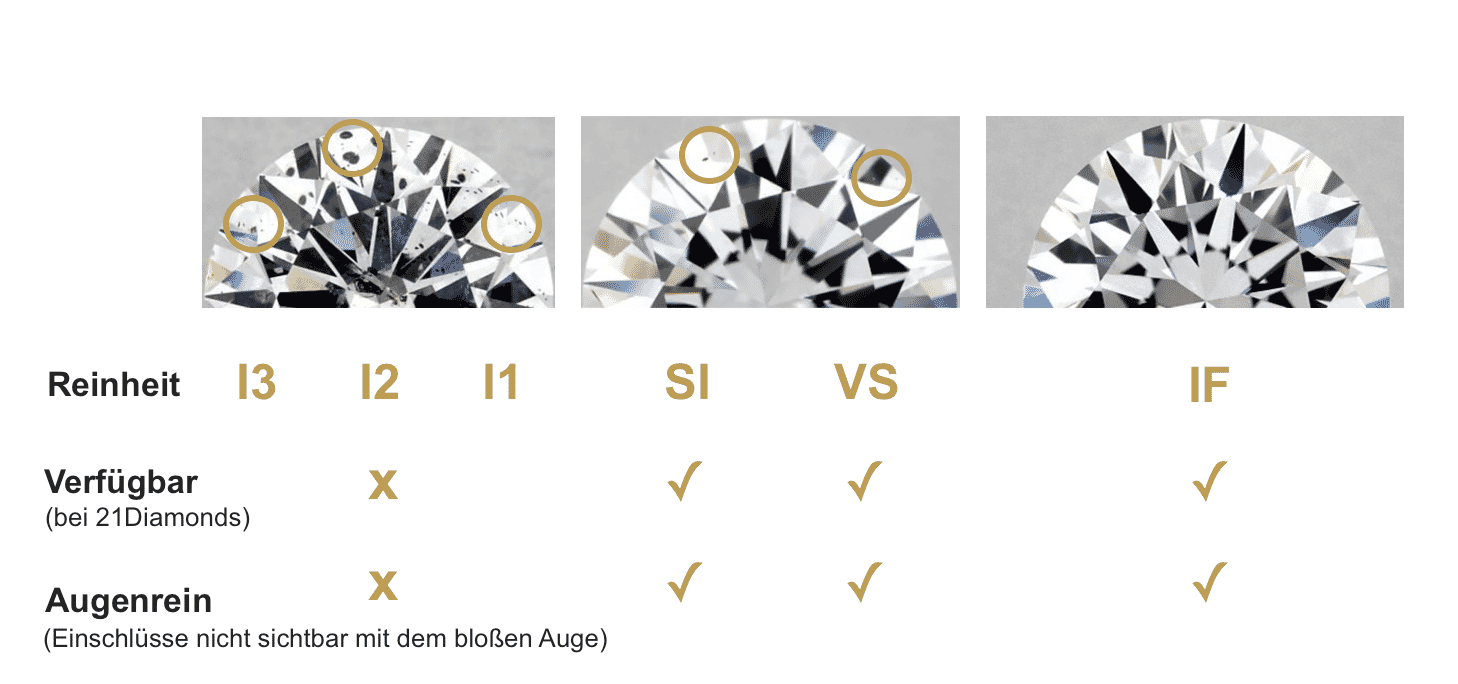 Secret 2 - Select ring size better too large than too small
Very often the ring size of the partner is not known or if, then only approximately. Therefore we recommend to order the ring size better a little bit too big than too small. This ensures that the ring will fit on the finger when the proposal is made. A subsequent size adjustment is also possible without any problems.
Secret 3 - Simply set the ring size afterwards
After the marriage proposal, you can exchange or resize the ring at 21Diamonds. This service is free of charge as long as the ring is unworn (i.e. without scratches). Find out which ring size is right for you. In the following table you have a small overview of the ring sizes.
The most ordered ring size is 54.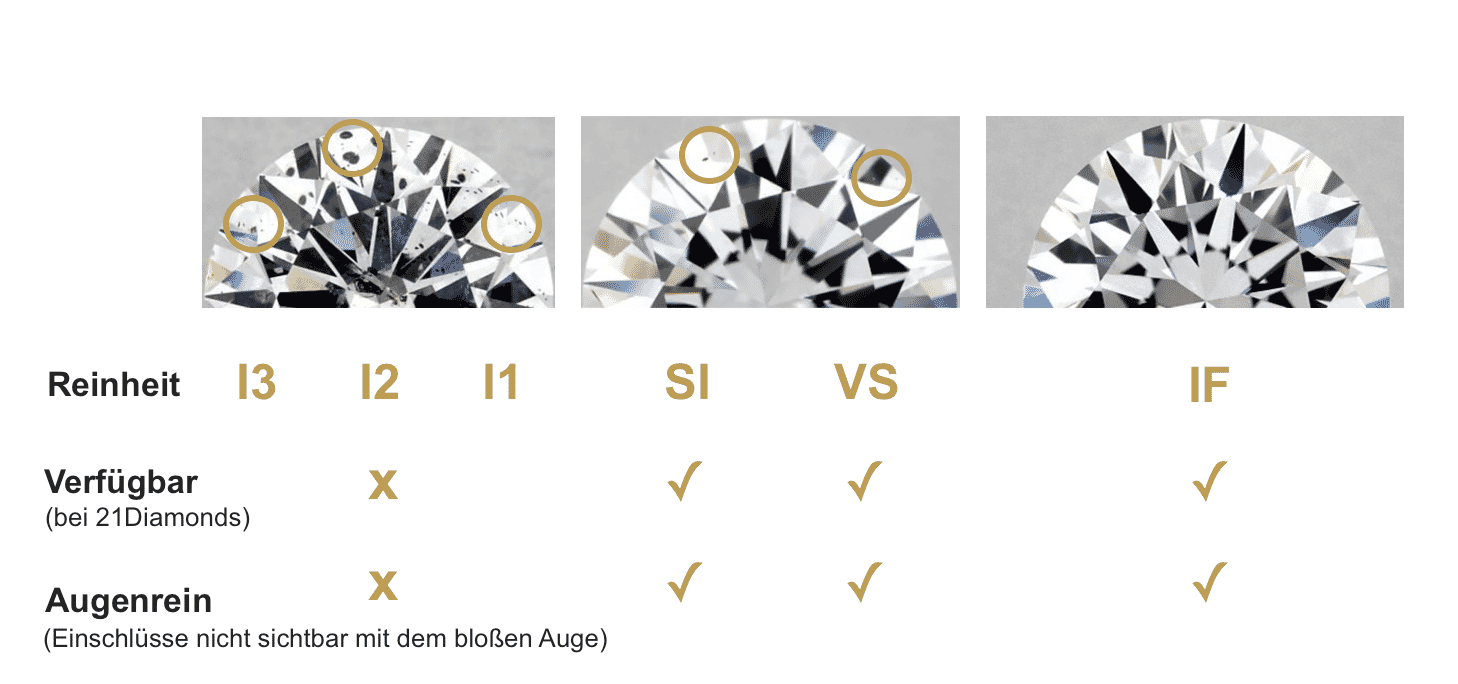 Secret 4 - The most popular engravings
When choosing the engraving you have two options. You can have the ring engraved directly when ordering or after the proposal. If you already know the date for the proposal, it is a nice idea to engrave that very day on the ring. Furthermore, your names can be engraved. However, this is often already done on the wedding ring. So how about a creative and very romantic saying?
Other popular ideas for engraving on the engagement ring:
♡ Name ♡
♡ Date ♡
Name ♡ Name
Forever Yours
Forever Your's
For all time
Love blooms
∞ + 1
Perfect Match
If you would like to have the ring engraved at a later date because you are not sure what to engrave or the ring size is not yet known, then it is recommended that you have it engraved at a later date. Engraving is free of charge at 21Diamonds even if you decide to have it engraved at a later date. Then you also have the opportunity to come up with a nice idea together.
Secret 5 - There are also engagement rings for men
Buying an engagement ring is not purely a male thing. More and more women are proposing to their partner. Usually a plain silver, white gold or platinum ring is chosen, which can later simply be worn on as a wedding ring.
Secret 6 - Set your own budget
As mentioned earlier, you don't have to follow any rules on how much you spend on the engagement ring. There is no social compulsion to spend thousands of euros. Therefore, from as little as €150, you can get silver rings with small diamonds or coloured stones at 21Diamonds, which can be worn until the wedding and beyond.
However, if you want the ring to last a lifetime and/or even be paired with your wedding band, then a gold alloy or 950 platinum is recommended. These rings start at €300.
Secret 7 - Diamonds in the quality G-SI (tw/si)
Have you ever heard of the term 4Cs in connection with diamonds? These are the carat, color, clarity, cut (English Carat, Color, Clarity, Cut) of the diamond. These important evaluation criteria determine the actual value of the precious diamond. As a buyer of a diamond ring you should pay attention to a high quality of this gemstone.
At 21Diamonds you can choose between different qualities of most stone sizes from good, very good to excellent. All quality levels are already very high quality and can only be distinguished by direct comparison.
We usually recommend the diamond grade G-SI1 (tw/si) for engagement rings. The stone is white and small inclusions can only be seen with a magnifying glass. Our ring configurations are already pre-selected with this quality. However, you can also select a lower or higher quality level.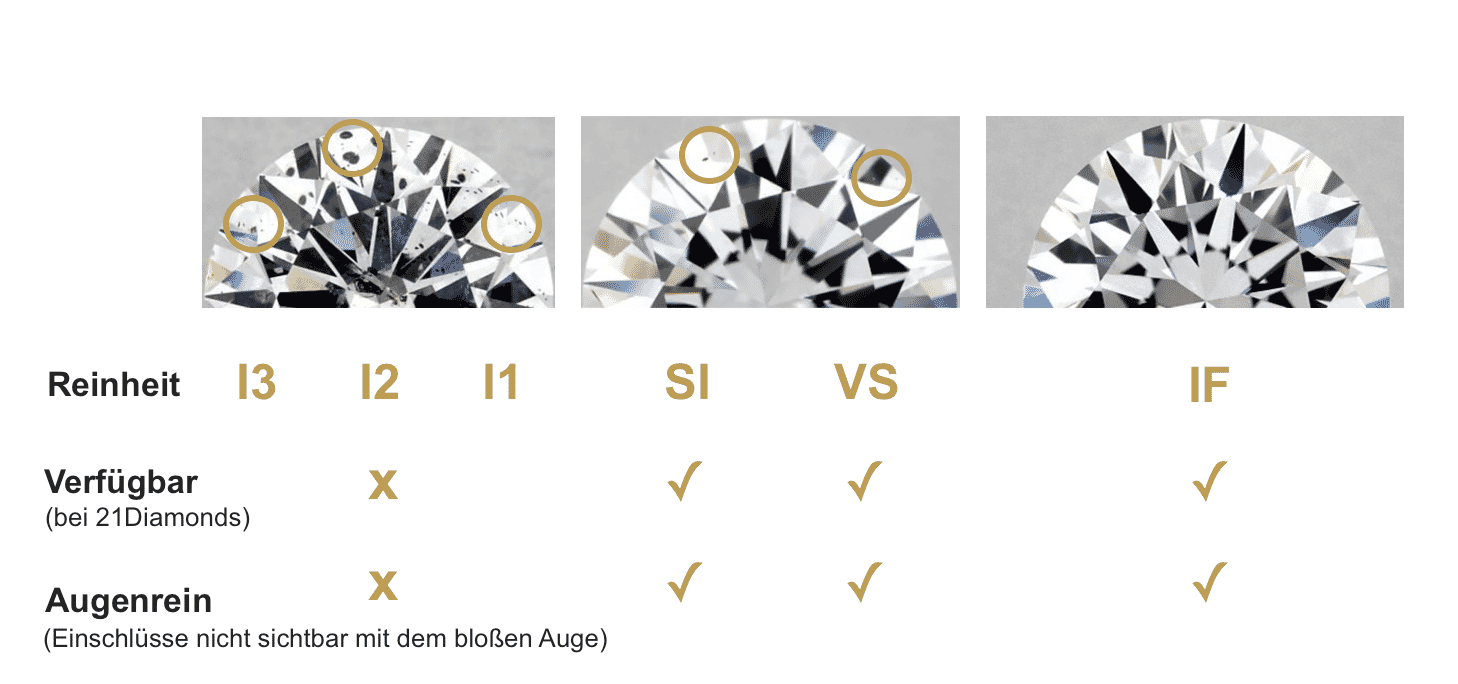 Only an exceptionally high quality diamond is absolutely white. This stone is very rare and very expensive. On the other hand, poor quality diamonds tend to be yellowish. Therefore, you should choose a diamond for the engagement ring that is at least almost colorless. The color scale starts in alphabetical order with D (very fine white) and ends with Z (yellow-brown).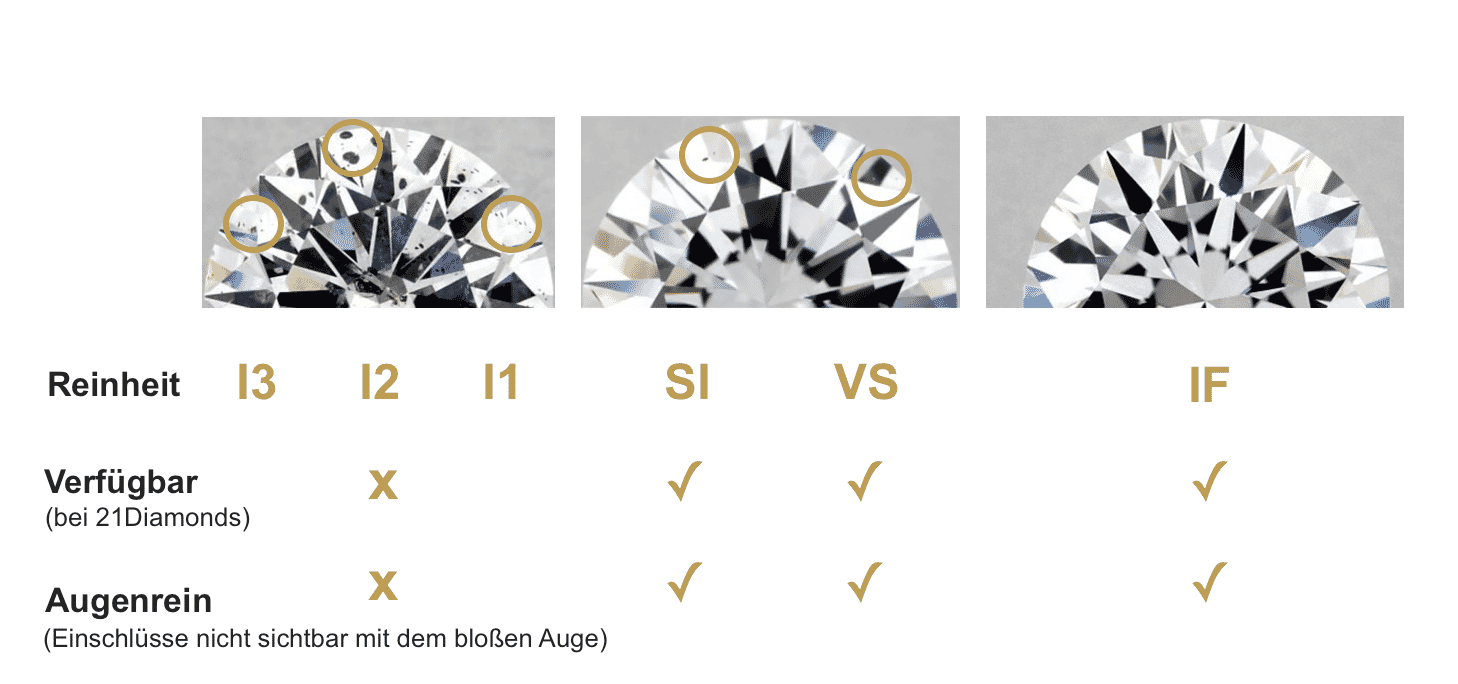 At 21Diamonds you can get the gemstones in the colors D, E, G, and H. Our tip: It is best to choose a diamond in the color G!
Clarity is also an important factor when choosing a diamond for your engagement ring. With the clarity level SI1 (small inclusions) you already get a gemstone where no features are visible to the naked eye (from this level diamonds are also called eye-clean). Further improvements in clarity are therefore only visible under 10x magnification. We therefore recommend a clarity of SI.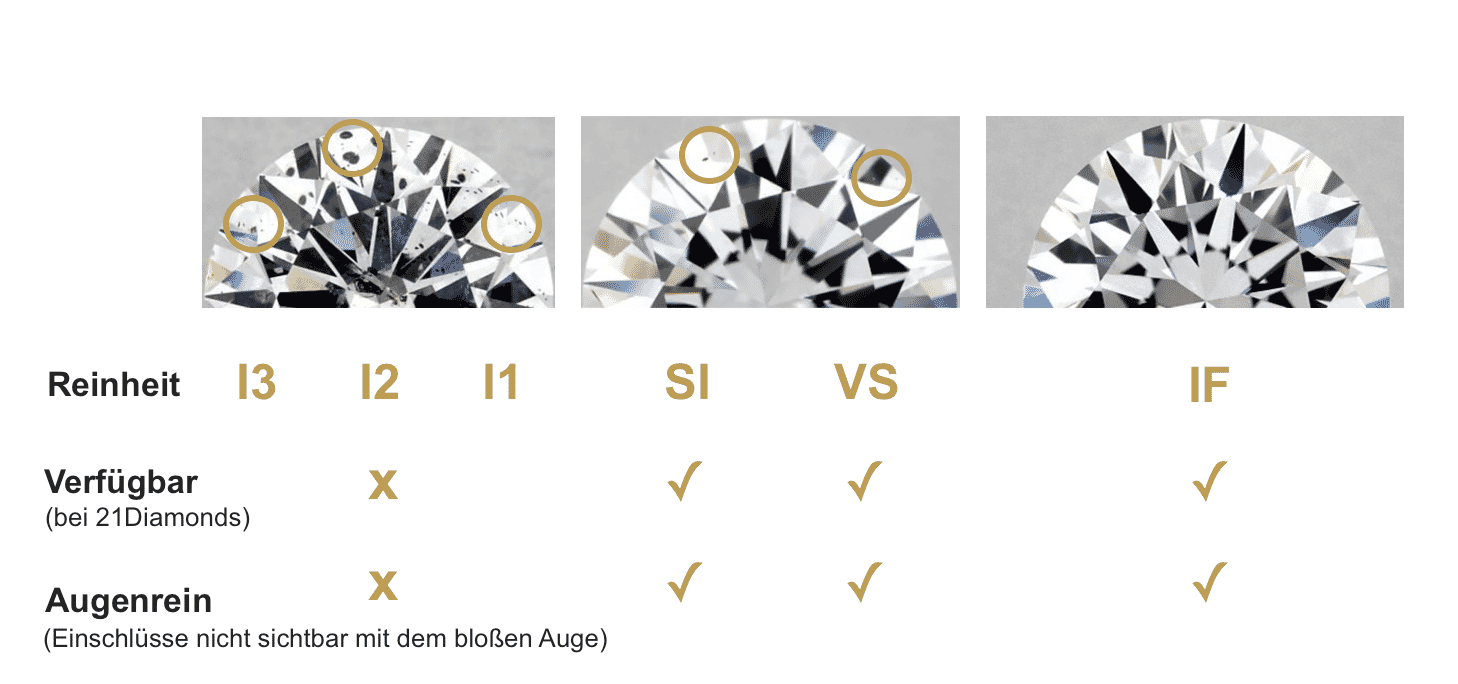 Secret 8 - Saving money when buying an engagement ring
Jewellery can be quite expensive. In addition to the material value, marketing and the location of the jewelry store also drive the price. Of course, if you go to the luxury jeweler in the middle of downtown on a boulevard, you're not only paying for what is certainly good quality, but also the high store rent, advertising costs, and the prestige it suggests from the vendor.
But it does not have to be like that. Good quality is also available at a fair price. 21Diamonds is the first online engagement ring and jewelry provider that has made it its goal to make high quality, handmade in its own goldsmith's shop in Pforzheim, Germany, available to a wide audience. With us all pieces of jewellery are made by ourselves. For example, we attach great importance to the fact that the engagement ring can still be worn after many years. The stones are securely set by master goldsmiths in our own 21Diamonds workshop.

In-house production instead of purchasing from jewellery wholesalers as well as the elimination of middlemen and the resulting direct procurement make the low prices you find in our shop possible.
Secret 9 - Compare prices on the internet
21Diamonds was launched in 2013 to offer diamond rings and engagement rings at affordable prices. Now a family-run business, the company places a high value on quality. Therefore, all rings are manufactured in the 21Diamonds goldsmith's shop in Pforzheim.
The jewellery is non-porous, the stones are securely set and the return rate is very low! Compared to many jewelers in the inner cities, 21Diamonds takes care to offer a fair price. Compare prices by choosing the same material. Although the design may differ slightly from a classic solitaire ring, if you compare for example two rings in 585 white gold with 0.1ct diamond in the quality G-SI, you can compare the prices well.
Large selection of rings in white gold, silver and more
As a base for your engagement ring, you'll find all the established precious metals at 21Diamonds to suit your preferences for jewellery and the unique charm of your engagement. From 925 sterling silver to 585 white gold to yellow gold or platinum, each of our rings has its own character and captivates with a distinctive design.
Matching the design of our engagement rings, you will also find wedding rings in our online shop that pick up on the look and design of our engagement rings. Especially if you as a couple have clear preferences for yellow gold, white gold and more, simply continue these from engagement into married life. The same applies to the design of our rings with precious stones, which range from the diamond to the ruby and emerald.
In addition to the classic closed ring shape, you will find unusual variations that are guaranteed to become eye-catchers over the months or years of the engagement period. For example, opt for a ring with a curved wave look or with an even row of the finest gemstones. Use our search mask to conveniently specify how many stones your ring should have and whether you prefer diamonds or other stones.
Order engagement rings of all kinds online in the shop of 21Diamonds
Precious gemstones, high quality materials, beautiful color nuances - engagement rings can be so diverse. Simple or very glamorous, classic or modern. The choice is yours. Take all the time in the world to choose the perfect ring that will make the big moment extra special. With the help of our ring configurator, you also have the option to make the ring very individual. Do you still have any decided questions about our services, then we are at your disposal for all your concerns.