Simple engagement rings: tension rings & other models for your marriage proposal
Have you found the partner you love more than anything and with whom you want to spend your life together? Are you already feverishly thinking about how to propose? Often it doesn't have to be complicated. This also applies to the engagement ring. Many couples want simple rings for their engagement. At 21Diamonds, you can expect a large ring selection made of precious metals such as white gold or silver that perfectly meets this desire. Conveniently choose the ideal engagement ring online.
Why choose plain engagement rings online?
Engagement rings made of gold or silver are worn by most couples for a limited period of time, regardless of the carat count. Once the wedding ring is put on at the wedding, the engagement ring loses its symbolic value. While the couple likes to keep the special rings, their actual meaning is lost when they get married. When choosing an engagement ring, many couples therefore look for the ideal middle ground between an attractive effect and a reasonable price. The ring should be made of white gold or silver, but it is allowed to be a little more simple and plain. Its charm and basic design can easily be picked up later with the real wedding ring, as you will quickly see in 21Diamonds' attractive ring selection.
Tension rings with sparkling diamonds - an attractive choice!
Particularly popular models from our range are tension rings with diamonds. With this simple ring variant, the sparkle of the diamond varies depending on the incidence of light. Compared to most wedding rings with diamonds, the tension ring has a lower carat count, but in addition to its ideal value, it has a greater material value. The special feature of this type of ring is that the diamond is held in the ring band by tension alone. Due to this very simple principle of the setting, the costs for the production of the ring made of white gold, yellow gold or silver are manageable and provide the simple touch. You can quickly see how aesthetically pleasing this ring still is when you take a look at the different variations in our assortment.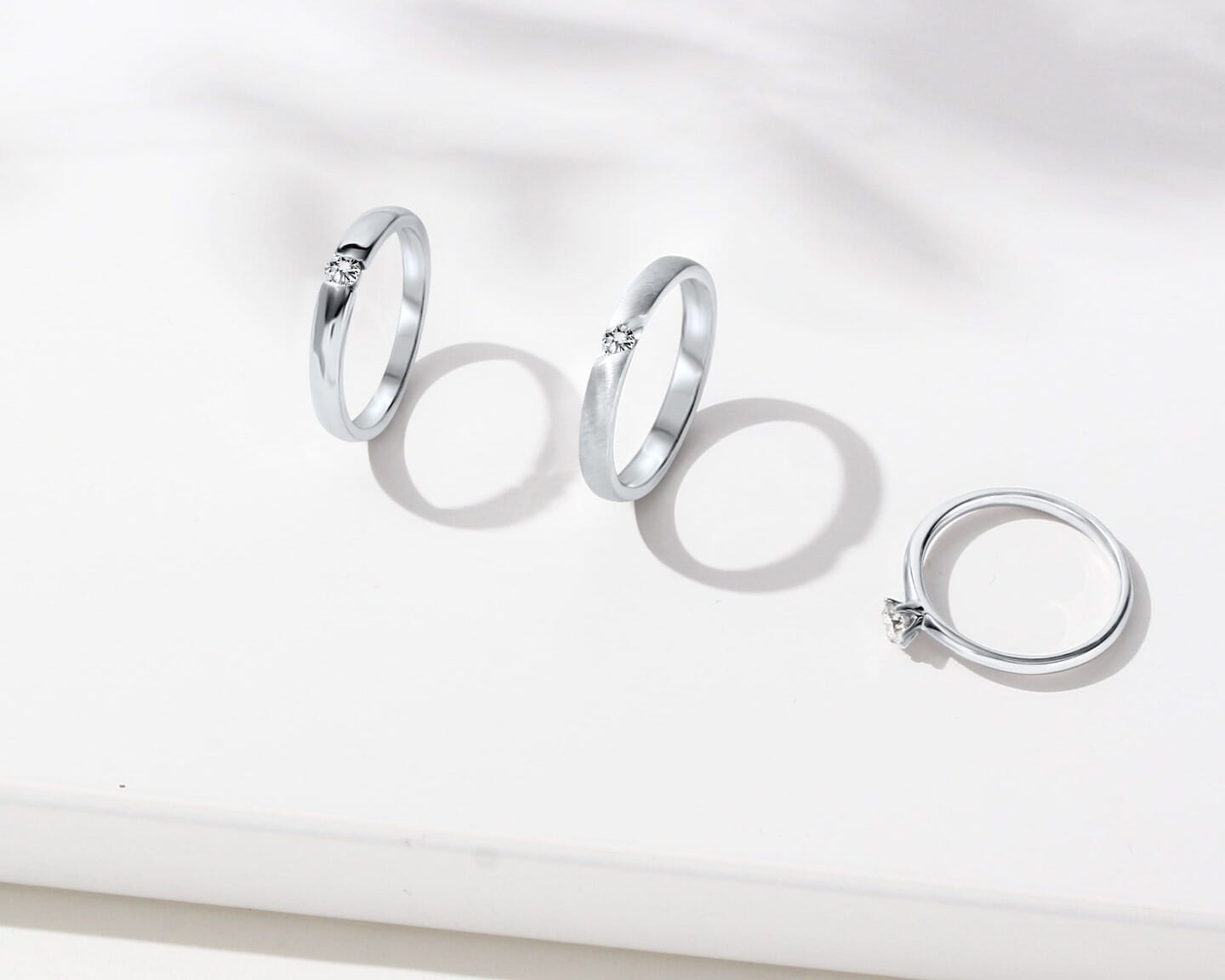 Expressing great feelings with diamonds and a classic design
Many women today want simple engagement rings that are enhanced by diamonds and gemstones. Our beautifully designed selection of modern engagement rings in white gold and other precious metals meets the tastes of women of all generations.
Order plain engagement rings at 21Diamonds
Discover beautiful plain ring options in our range. Be enchanted by sophisticated tension rings. Also discover other fascinating ring variations such as eternity rings or classic solitaire rings. In addition to engagement rings, you will also find attractive wedding rings, friendship rings and other pieces of jewellery for the most beautiful occasions in life. You are sure to find the ring that you and your partner desire. If you have any questions, please do not hesitate to contact us. You can reach our customer service during business hours by phone, chat or email.
Continue browsing at 21Diamonds:
Find matching engagement rings from 21Diamonds